More and more people are starting to realize the benefits of eating healthy food, including when they want to dine out. As a result, restaurants are adding more nutritious, vegetarian, and gluten-free items to their menus. Chefs look for locally sourced produce, dairy, and meats, while ethnic restaurants enjoy sharing some of their traditional dishes that feature plenty of vegetables and lean protein.
The next time you want to take your family to a restaurant that serves high-quality food, check out these five healthy eateries in the Centennial, Colorado, area.
Modern Market Eatery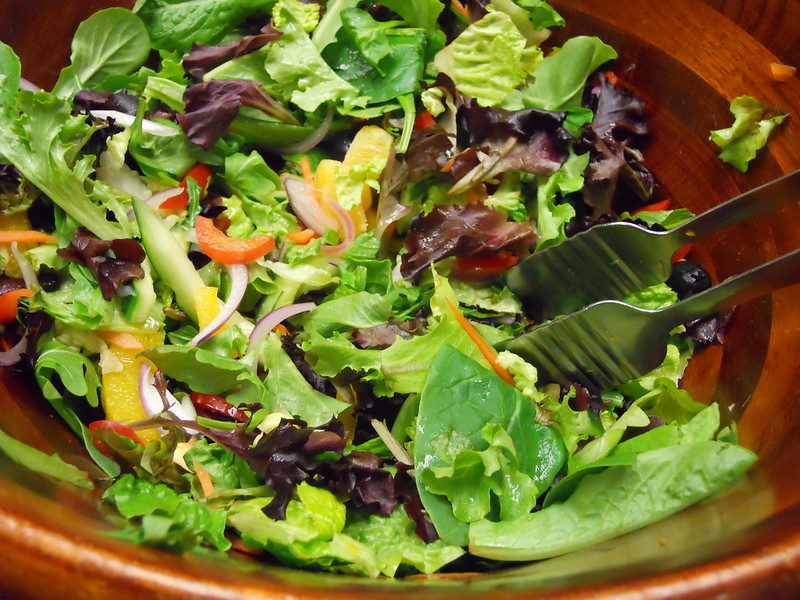 Image via Flickr by Nutrition, Food Safety & Health
Find your favorite sandwiches, salads, wraps, and grain bowls at the Modern Market Eatery. This restaurant chain has several locations throughout the western states, and you're sure to find the same quality of food and freshness at each one, including the one in Centennial. If you're looking for something light, they have a lot of tasty salads to choose from, including the Thai coconut, salmon Caesar, and the turmeric veggie salad. They also have a variety of beverages like kombucha that you can drink with your meal.
Power up with a grain bowl like the Buddha bowl, which is filled with vegetables served over warm heirloom rice and topped with sesame glazed tofu, or grab a sandwich with fillings like blueberry pesto, chipotle steak, or basil chicken all served on ciabatta bread. You'll also find items like avocado toast, soups, and sweet treats like gluten-free fudge brownies. The little ones will enjoy the grilled cheese and tomato sandwich or the chicken plate with grilled chicken, mashed potatoes, and a side salad.
Shawarma Mediterranean Grill
Enjoy an exotic Middle Eastern culinary adventure when you dine at Shawarma Mediterranean Grill. This restaurant specializes in shawarma cooking, where thin slices of meat or poultry are put on a rotating skewer and slowly roasted over a hot pit. Before roasting, chefs marinate the meats in fragrant spices like turmeric, cardamom, cloves, and cinnamon that give the shawarma a distinct flavor.
At Shawarma Mediterranean Grill, you can get the protein served over a salad, wrapped in pita bread with vegetables, or served as a plated dish with rice, spiced potatoes, and a green salad. Don't forget to try their stuffed grape leaves, falafel, or the spicy lentil soup. The kids' menu includes delectable offerings like cheesy pita and the lamb shawarma plate served with rice, spiced potatoes, and a green salad.
Save room for dessert so that you can try the baklava filled with crushed nuts and sweet honey or the luscious pudding made with rose water and milk and topped with a strawberry glaze.
MAD Greens
When you're looking for fast, healthy food, head over to MAD Greens. From fresh juices to hearty, warm grain bowls, you'll find just the right meal to fill you up. Try a refreshing juice creation like the cherry zing or apple greenie to freshen your palate. You also can't go wrong with a bowl of warm soup on a chilly afternoon, and you can choose from garden vegetable, broccoli cheddar, and the Colorado green chile.
MAD Greens has a variety of delicious specialty salads, including the Pancho Villa made with quinoa, roasted corn, avocado, and grilled chicken. If you're not sure what kind of salad to choose, however, then you can build and customize your own with a wide range of greens and toppings.
Wraps are great to eat on the go. Choose the Annie Oakley with chicken, avocado, and jack cheese or the chipotle Caesar with vegetables and chicken seasoned with zesty chipotle dressing. You can also get a grain bowl that features a mixture of wild rice and quinoa, your choice of proteins, and loads of vegetables.
Kids get a menu of their own with offerings like the lunch box, which is filled with grilled chicken, edamame, carrots, apples, and ranch dressing. They can also get small, customized versions of the adult salads or grain bowls.
Pho 95 Noodle House
Enjoy traditional Vietnamese food when you stop by Pho 95 Noodle House. Pho soup is the specialty of the house and is made the traditional way with beef broth, thin slices of beef, and rice noodles. If you're a vegetarian, Pho 95 Noodle House offers a vegetarian version, and the noodles are always gluten-free. Start your meal with an exotic appetizer like shishito peppers with ginger, Vietnamese spring rolls filled with shrimp and pork, or spicy satay pork with chile and lime sauce.
Order the traditional beef pho soup, or try the vegetarian option filled with bok choy, carrots, snap peas, rice noodles, and spicy sriracha chile sauce. You can also get tofu and vegetable plates, pan-fried noodle dishes, and signature dishes that feature seafood with ginger and garlic. For dessert, try the Vietnamese version of fried bananas, mochi ice cream, or a slice of chocolate mousse cake. Kids have their own menu with smaller portions of the pho, fried rice, and noodle dishes.
Seasons 52
Sip on fine wines from around the world that pair nicely with your meal when you eat at Seasons 52 in Lone Tree. Stop by for lunch or dinner, and enjoy an appetizer like the grilled artichokes with preserved lemon hummus or ahi tuna tartare.
On a warm day, have a small refreshing salad like the field greens or warm honey-roasted golden beets with goat cheese. It's also easy to make the salad your main meal with offerings like the barbecue chicken salad with a cumin-lime vinaigrette or the sesame-grilled salmon served over a bed of greens with a toasted sesame dressing.
If you want something more filling, savor entrees from Seasons 52's wood-fired oven. Try the wood-grilled rainbow trout, filet mignon, or pork chop served with vegetables and a variety of potato options. Round out your meal with sweet treats like raspberry chocolate chip cannoli, key lime pie, or peanut butter torte. Kids can enjoy butternut squash soup, pasta dishes, or a burger made from grass-fed beef when they come to dine with you.
We hope you enjoy eating healthy foods at these amazing restaurants that focus on fresh produce, farm-raised meats, and locally sourced dairy items because Creme de la Creme of Lone Tree, CO. also values healthy food to promote strong minds for exceptional kids.