Colleyville, Texas, is a beautiful city that offers lots of activities and fun for families. The city is home to many local parks, and it's within a short drive of many more in neighboring towns. Most of the parks have walking trails to explore, and many of these are paved so that you can bring strollers or bikes. Some of the local parks even have fishing ponds where you can bring out your gear and try to catch a fish or two.
Make sure to check out these awesome parks in and around Colleyville the next time you want to enjoy the outdoors with your family.
Bransford Park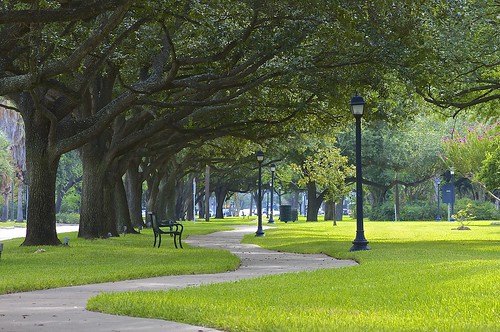 Image via Flickr by lydia_x_liu
Bransford Park is one of the smaller parks in Colleyville, but it has a lot to offer. It's home to the historic Webb House and the Lyman Whitaker wind sculptures, which provide visitors with unique sites to explore. It also has a lot of open space so that your kids can run and play while you sit out in the sunshine and enjoy some downtime on your own.
Kimzey Park
Kimzey Park on Melanie Drive in Colleyville is a 20-acre park with a 1-acre fishing pond. It has a playground for the kids, an open play area, a half-court practice backstop, a basketball court, and even a sand volleyball court. This park also has a multiuse trail that winds around the fishing pond, which is perfect for a short walk or a run. A covered pavilion provides some shade if you need it, and it also has some picnic tables for when you're ready to stop for lunch or a snack.
Pleasant Run Soccer Complex and Park
The Colleyville Soccer Complex on Pleasant Run Road is the ultimate park for soccer players. The 33-acre, award-winning complex has practice fields and game fields, both of which have lighting for night games and practices.
There are also activities for those who don't play soccer. Head to this park for a weekend picnic in one of the many picnic areas, or take advantage of its proximity to the multiuse Cotton Belt Trail. Just park at the complex and walk across to the trail. It's open for walking, running, and cycling. The entire trail runs for over 11 miles, but you can make your walk as long or as short as you want. In Colleyville, the trail ends right at John McCain Road, but you can pick it up again at the Grapevine segment.
Since Pleasant Run Soccer Complex and Park is a large complex, there is plenty of parking and clean restrooms for you to use.
Sparger Park
Sparger Park is a nice little neighborhood park on Bedford Road. It has plenty of green space if you want to give your kids a place to run around, and it has a covered pavilion for when you need to get out of the sun.
You'll also find a half-mile trail that winds around the outskirts of the park. It's an asphalt trail that only allows foot traffic, so there are no bikes to avoid, and it offers lots of shade and nature to see as you make your way around. You can even climb down to the creek. Put your feet in the water if you want to cool off, or bring a fishing pole and see if the fish are biting.
Make sure to check out the dirt trail that takes you over the bridge. It leads to some beautiful sightseeing and a view of the Tara Plantation's backyard.
Chisholm Park
Chisholm Park in nearby Hurst is just a short drive from Colleyville. It is the largest park in Hurst, offering plenty of fun year-round activities, from swimming and fishing to playing sports. There are three different pavilions available for rent, and each one has eight picnic tables and a grill.
The Neighborhood Fishing Pond is one of the most popular attractions at Chisholm Park. The city regularly stocks it with catfish in the summer and rainbow trout in the winter for excellent fishing all year round. Just remember, adults and kids over 16 need to have a valid fishing license in order to drop a line.
Chisholm Park also has walking and running trails, such as the Red Trail, which runs for just over a mile. For something shorter, you can check out the Blue Trail, which is just a quarter-mile long and features workout stations. If you're up for some friendly competition, you can also check out the volleyball courts and basketball courts for a fun game with the family.
Rickel Park
Rickel Park on Bluebonnet Drive in Hurst is worth the short drive from Colleyville. It has a nice paved trail that loops around, offering some steep spots if you want to get some exercise or try some hill sprints. From the top of some of the hills, you can even get a nice view of Dallas-Fort Worth.
Rickel has two covered pavilions available for rent, perfect for an outdoor family event like a birthday party. There is also plenty of open space where you can watch your kids play.
Bob Eden Park
At 47 acres, Bob Eden Park in nearby Euless is one of the biggest parks in the city. It's a well-maintained local park with volleyball courts, tennis courts, and playgrounds for the kids. There's also a pavilion with restrooms where you can rest after getting active with your family.
The park connects to other local parks in Euless by the walking trails, making it easy to plan a fun day of exploring. The paved trail system runs through a wooded area, and since it's flat, it's perfect for running or for kids who are just learning to ride a bike. There is also an unpaved area running along the north side of the creek that offers some beautiful views.
With so many great parks in and around Creme de la Creme of Colleyville, it's easy to enjoy time outdoors with your family.