Busy families need quick solutions for dinner time. When you don't have time to cook or just don't have the energy to make something at the end of a long day, having family-friendly places to take the kids for dinner can be a lifesaver. Chanhassen is a great place to find family-friendly dining. With options that range from pizza joints that will please everyone to Mexican restaurants with extensive menus, you can easily find a place that will feed everyone. Take a look at these family-friendly restaurants in Chanhassen.
Houlihan's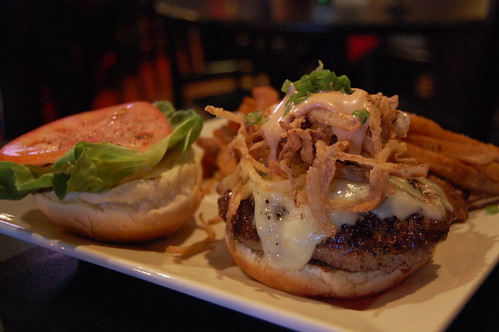 Image via Flickr by stu_spivack
Houlihan's is the perfect spot for the whole family, with a menu that appeals to both kids and adults. The little ones will enjoy options such as macaroni and cheese, hot dogs, and chicken fingers, and if they are older, the regular menu has a wide selection of burgers. Parents have lots to choose from, including sandwiches, fish, pasta, and salads.
The atmosphere in Houlihan's is very laid back and relaxed, so you can take some time to unwind while you enjoy dinner as a family without the cleanup afterward.
Rey Azteca Mexican Restaurant
Rey Azteca Mexican Restaurant is the perfect place for taco Tuesday, and you won't have to do dishes when you finish. The street tacos are always a good choice, or you can choose from a wide selection of chimichangas, quesadillas, and burritos. One of the popular menu items at Rey Azteca is the burrito ranchero, which is two shredded beef burritos topped with cheese, lettuce, tomatoes, and sour cream. It comes with Mexican rice and refried beans.
If you can't decide what you want, the combination plates offer several items all on one plate along with rice and beans. The vegetarians in your family also have plenty of options, like veggie fajitas, chile relleno, and bean or veggie burritos. You and the kids can also order al la carte if you just want something light.
Panino Brothers
Panino Brothers makes the best rolled sandwiches called paninos. The Panino Brothers got their start working in the kitchen for the Froscatti family but wanted to come up with a unique sandwich to start their own business. When they combined their love of pizza dough with a rolled sandwich, their idea was born. With options such as steak and cheese and build your own, everyone will find something they like.
Panino Brothers also serves delicious homemade mac and cheese, burgers, pizza, and salads. For a unique treat, try the Mafia Mac Pie, which is a mac-and-cheese-stuffed panino with either ground beef or hot dogs and cheddar cheese. The rolled sandwich is then topped with creamy cheese sauce. For the kids with small appetites, there are mini tacos, quesadillas, and wings that you can get mild, medium, hot, or sweet and spicy or with honey barbecue or honey mustard. For dessert, get a slice of New York-style cheesecake or vanilla ice cream.
Culver's
What's better than good, simple food and frozen custard for dessert? Culver's serves delicious uncomplicated food that the whole family will love. This family-friendly restaurant is famous for its ButterBurgers that come with fresh, never frozen meat. The beef is pressed, seared, and served either on a traditional buttered and toasted bun or sourdough bread. Your kids can dig into chicken tenders, grilled cheese, corn dogs, or junior ButterBurgers. If they're only feeling a little snacky, they can pick at pretzel bites with cheese sauce or Wisconsin cheese curds.
You can't go to Culver's without finishing your meal with some famous frozen custard. The staff makes it throughout the day, so it's always fresh and creamy, and they offer it in a variety of flavors. You can even get a custard sundae or try one of the concrete mixers. These mixers have thick frozen custard mixed with your favorite candies, fruit, and sauces, such as hot caramel, butterscotch, or chocolate syrup.
Perkins Restaurant & Bakery
Perkins Restaurant and Bakery is just a few miles away in Bloomington. It's the perfect place for a busy weeknight meal or breakfast on the weekends. The kids' meal options have something for even your picky eaters, with choices such as grilled cheese, macaroni and cheese, pancakes, and brioche French toast. The kids can also get chicken strips with fries or fun rainbow pancakes that come topped with rainbow sprinkles.
There are lots of options on Perkins' menu for the grown-ups, too. Comfort classics, such as homemade meatloaf and fried jumbo shrimp, are always a good choice, or you can get a full turkey dinner that comes with all your favorite sides. The signature burgers are also delicious and include the classic cheeseburger or the BBQ Tangler Burger, which has sweet BBQ sauce, cheddar cheese, bacon, and crunchy onion tanglers.
Pizzaioli
There is no better place to grab a pizza in Chanhassen than Pizzaioli. Not only can you get a delicious pizza, but if you save room for dessert, there is a gelato bar with lots of flavors and toppings to choose from. Your family can get a pizza to share or choose from a variety of other menu options such as salads, wraps, and panini. The just-for-kids menu options include spaghetti, mac and cheese, a junior-sized pizza, and oven-baked mac and cheese bites that come with ranch dressing.
For the adults and the kids who like to try new things, the specialty pizzas are a must. The long list of options includes the white Venetian chicken with mushrooms, onions, and herbs, or the mac and cheese with macaroni, white sauce, a special cheese blend, and herbs. There is also a chipotle chicken pizza with refried beans, onions, and mozzarella, and the Hawaiian delight with pepperoni, Canadian bacon, pineapple, green peppers, and Parmesan cheese.
Well, Creme de la Creme families, these are some of the best places for family dinners in the Chanhassen, MN. area. At the end of a busy day, when you want a place that both you and the kids will enjoy, these are the places to start.